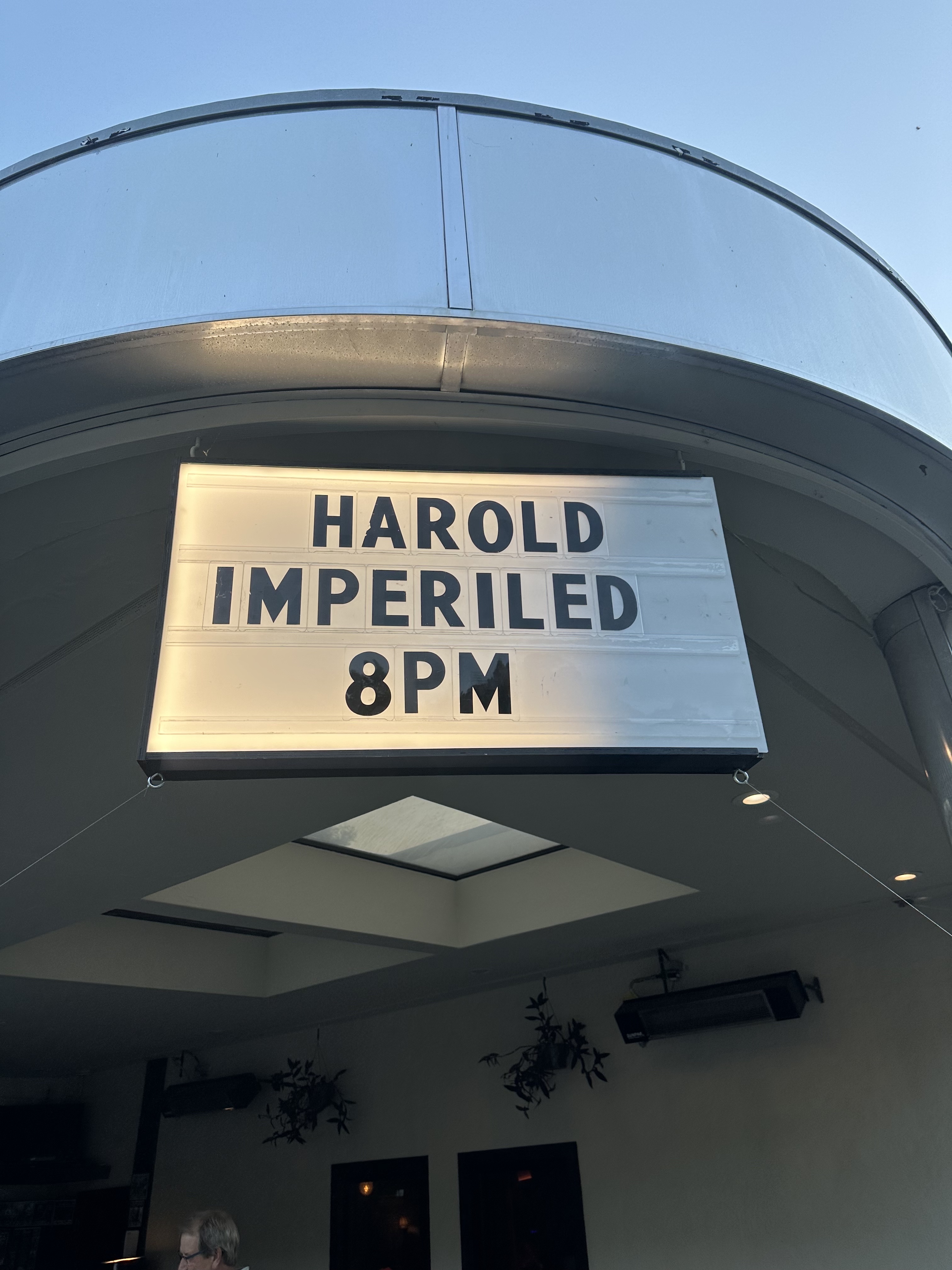 "It was the best of times, it was the worst of times, it was the age of wisdom, it was the age of foolishness, it was the epoch of belief, it was the epoch of incredulity, it was the season of light, it was the season of darkness, it was the spring of hope, it was the winter of despair."  - Charles Dickens 
"It's about the chicken." - Harold Imperiled
On a fine, seasonal night in Fairfax, the newly branded Harold Imperiled quintet presented an ambitious music set. Two sets, actually. The first was characterized by original music by me, Chili, and Titmouse co-parent René Planchon:   Little Birdie, The Herbarium of Dora Sylvester, Island, Leaving for the Coast, Deaf Persistence, Esme´, In a Silent Funk, Night After Night, At the Water's Edge, and Sweet Eliza. That's 5 original debuts. Whew! While lacking polish, the music was fresh and and to the ears of one listener, "moody" and "indie." Stylistically diverse, they are the projected tunes on a record we plan to make this year, and it was cool to share them for the first time. It was a "song-forward" set with jams emerging only on the Vince Guaraldi opener and in the chromatic puzzle, In a Silent Funk. Ok, Esmé had a short jam too.  The crowd hung with us through the set of music that must've seemed strange to their ears. Hopefully, one day, it will all sound sweet and familiar. 
For the second set, we activated the "Imperiled" aspect of our new name, launching the funk jam with Also Sprach Zarathustra and a cracking Caravan. Our new addition, Rafa, on trumpet, shone in this format and displayed an uncanny connection with Parker Grant's Rhodes work. If knew more about harmony, I could tell you what they were doing, but it was cool AF.  Don't take my word for it, though…
The place was grooving hard as we careened through Miles' It's About That Time, Titmouse tune, The Reverie, Jan Jan,  and Bowie's Fame. The crowd wanted one more, so we gave them a soul jam Dear Prudence to close out the night. If you stopped reading and checked out the YouTube link above, you would know that the game ball goes to monster bassist and Friend of Finnish Food, Stacy Starkweather. Without question. So funky. 
After the show, I was struck by something extraordinary: there is no band I know in Marin that can do precisely what we do. Our dual nature, the complex and idiosyncratic songwriting on the one hand, and legit acid jazz on the other. Harold Imperiled is a one-of-one. 
It was an appropriate cap on what will be our last first Wednesday. We're all educators by day, and these weeknight shenanigans only really work during the summer. So we will throw one more community party on August 12th on the Patio 4-6 pm. Please come by and revel with us!
Community Holler 
An obvious warm holler to our friendly and expressive openers, Migrant Pickers. Gary and Mark are just terrific people and set a great tone for the night.
Great to Tangled And Free friends, Susan and Matt. Susan paid enough attention to our second tune, The Herbarium of Dora Sylvester to send me this incredible piece about Emily Dickinson. Did she know that I have taught Dickinson extensively (and never knew about her botany) and Parker Grant, our most literary Rhodes player, is a big fan? Thanks, Susan!
My nearest neighbor up the hill from Fairfax, Abrahm, a no-joke environmental journalist, was on hand and offered a great perspective on our project. We need to do more night hikes, Abrahm! 
It's so cool to see our community out at these shows.